Running a field service business is a lot like juggling, you have to keep a lot of balls in the air at the same time. But with Bella FSM you'll be able to automate workflows while streamlining your overall business in a way that saves time and money.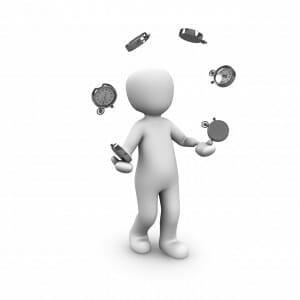 The fully digital nature of Bella FSM service scheduling will allow you to go completely paperless, so that you'll not only cut costs, but also go green in the process.
Dispatch Field Technicians: Scheduling and tracking jobs is one thing, but to have a fully functioning field service business, you have to be able to send out field technicians. Also, have customer records, job status, history and notes on hand, so you can make sure the right person is being sent to the right job every time. This will notably improve productivity, as you and your employee won't have to worry about these nitty gritty details. Dispatch multiple technicians to a single job with one work order.
Schedule and Track Jobs: When your whole business is sending out field technicians, having a software that can make that easy is very important. Fortunately, Bella FSM does exactly that with simple colored-coded scheduling tools and email and text notifications for real-time updates. You'll be able to increase the accuracy of your business and avoid mistakes.
Bella FSM services a wide range of industries, including: HVAC, Plumbing, Electrical, IT, Security, Landscape, Appliance Repair, Pest Control, Cleaning, Handyman, Garage Door, Pool, Spa, Aquarium, Medical Equipment, Pet Services, Water Restoration, Installation Services, Facility Maintenance, Commercial Property Maintenance, Carpet Cleaning, and Snow Removal.