The Ultimate Guide: Choosing the Perfect Cleaning Business Name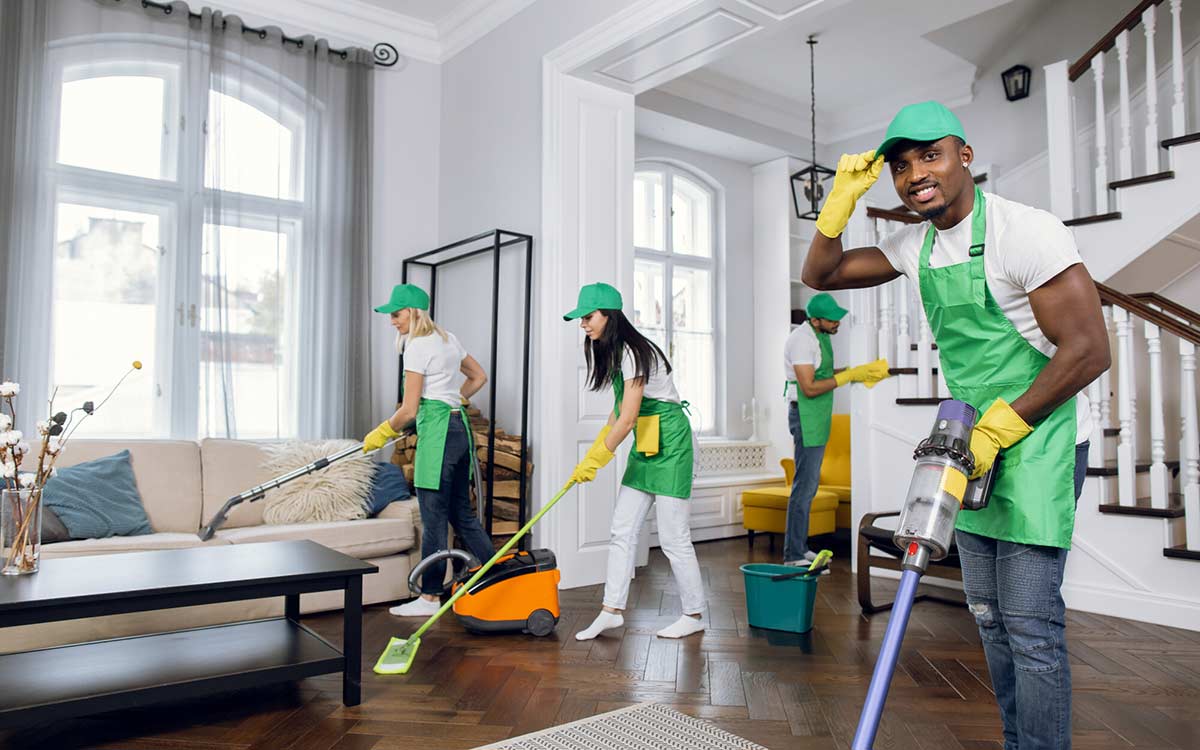 Choosing the right name when
starting a cleaning company
is crucial for the success of your business. A well-chosen name creates a strong brand identity, makes a lasting impression on potential clients, and helps you rank higher on search engines. In this comprehensive guide, we will discuss the essentials of selecting the perfect cleaning company name and provide you with practical tips to create a successful brand. Let's get started!
Brainstorming Your Cleaning Business Name
The first step in the process is brainstorming potential names for your cleaning company. Here are some techniques you can use to generate creative ideas:
Word association: Write down a list of words related to cleaning, such as "sparkling," "tidy," "sanitize," or "polish." Combine them with other words that convey professionalism, reliability, and trustworthiness.
Thesaurus search: Use a thesaurus to find synonyms for cleaning-related words. This can help you discover unique and interesting name ideas.
Location-based names: Incorporate your city, town, or region into your business name to make it more relevant and locally appealing.
Acronyms: Create an acronym using words that describe your cleaning company's values, services, or mission.
Try our Cleaning Business Software to help streamline your operations
The Importance of a Memorable Name
A memorable name helps your cleaning company stand out from the competition and makes it easier for potential clients to recall your business when they need your services. To create a memorable name:
Keep it short, simple and aim for two to three words or fewer.
Choose words that are easy to pronounce and spell.
Avoid using numbers or special characters, as they can be confusing.
Consider using alliteration, rhyming, or puns to make the name catchy.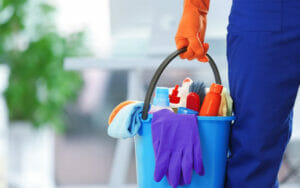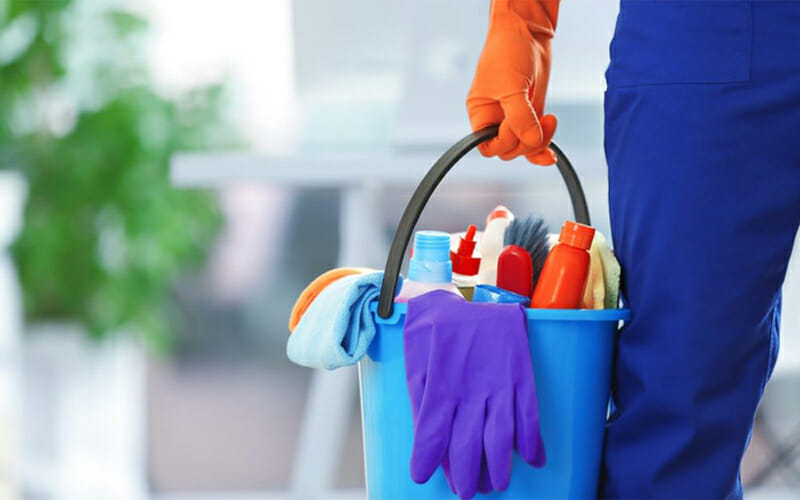 Characteristics of Great Cleaning Company Names
A successful cleaning company name should have the following characteristics:
Descriptive: Your company name should immediately convey the nature of your business, so clients know exactly what to expect from your services.
Unique: Choose a name that sets your cleaning company apart from competitors and reflects your distinct brand identity.
Appealing: Select a name that resonates with your target audience and evokes positive emotions.
Future-proof: Pick a name that will not limit your growth, in case you decide to expand your services or target market.
Choose a Cleaning Business Name that Reflects your Services
Your cleaning company name should reflect the specific services you offer, such as residential cleaning, commercial cleaning, or specialized services like
carpet cleaning
or
window washing
. Consider incorporating keywords related to your services in your company name to clearly communicate your expertise and attract your target audience.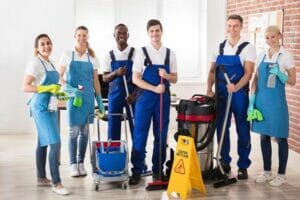 Checking Name Availability and Legalities
Before finalizing your cleaning company name, ensure it is legally available and not already in use by another business. To do this:
Conduct a business name search through your local government's business registry.
Perform a trademark search on the United States Patent and Trademark Office (USPTO) database or the equivalent agency in your country.
Check domain availability for your desired name using domain registrar websites like GoDaddy or Namecheap. Securing a domain that matches your company name is essential for building a strong online presence.
Review any local business regulations or licensing requirements to ensure your chosen name complies with applicable laws.
Just starting? Try our Free Cleaning Estimate Template
Creating a Strong Online Presence
After selecting the perfect cleaning company name, it's crucial to build a robust online presence to increase your brand's visibility, attract new clients, and grow your cleaning business. Here are some steps to create an impactful digital footprint:
Register a domain: Purchase a domain that matches your company name to establish a professional online presence.

Design a website: Create a visually appealing, user-friendly website that showcases your cleaning services, excellent customer service,  provides contact information, and includes client testimonials.

Optimize for SEO: Implement search engine optimization (SEO) techniques, such as using relevant keywords, creating high-quality content, and optimizing meta tags to improve your website's search engine rankings.

Leverage social media: Create and maintain active social media profiles on platforms like Facebook, Instagram, and Twitter to engage with potential clients and showcase your cleaning expertise.

Collect and manage online reviews: Encourage satisfied clients to leave reviews on popular review platforms like Google My Business and Yelp, and respond to all reviews, both positive and negative, to demonstrate your commitment to customer satisfaction.
Final Thoughts
Choosing the perfect cleaning company name is a crucial step in building a successful brand. By following the guidelines and tips provided in this comprehensive guide, you can select a memorable, unique, and appealing name that reflects your services and resonates with your target audience. Additionally, by creating a strong online presence and optimizing your website for SEO, you can improve your search engine rankings and outperform your competition.