We received a great deal of response to our recent post on how mobile field service software can impact customer service. Let's take a closer look at individual components of customer service and see how focusing on those components can help you improve your customer service and grow your business.
Today's post will address the impact customer response time has on customer satisfaction. Customers want their problem fixed quickly and correctly. So how fast do you need to get to a customer? The answer is it depends.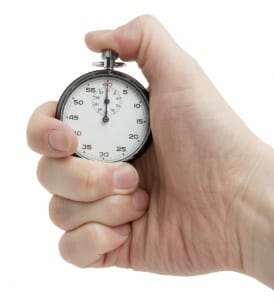 Scheduled Outbound Service Calls
The key to a good customer response time is to understand when the customer needs the job done and meet the expectations that you set. A recent Harvard Business Review article takes things a step further and asks Are You Listening to You Most Important Customers? Suggesting that you better know how quickly your most important customers expect you to respond if you want to maintain and grow your business. Most customers are able to work with a 24 hour response time as long as a window of two to four hours can be met. You should strive to meet the times you committed to your customers 95% of the time.
Another recent article posted by Merlin, an IT outsourcing and customer service company, discusses 10 Solutions for Crucial Customer Support Problems and provides the problems and the solutions.
Hours of Service
7:00AM to 5:00PM. There it is. That's your minimum in today's world. If you can afford to go later, great. But if you can't have someone answer the phone between those hours, you're losing a lot of business.
Social Media
All companies need a constant social media presence. Customers are giving feedback on Twitter and Facebook just to name a few. Every small business needs to engage with them every day in real time.
A company YouTube channel tied to your website. This can be used effectively for how-to-videos or to answer frequent customer questions.
A company blog. This is an excellent way to keep the customer engaged without just selling to them all the time and also for you to share your expertise to the community.
At a minimum, a Facebook and Twitter account tied to your website to provide a communication channel for your customers 24/7.
Customers need to be able to interact and to give feedback to the company at every phase of the sale cycle by email, phone or social media.
Visit Bella job management software to learn how we can help your business.