In today's digital age, small businesses are constantly looking for ways to stay ahead of the curve and maintain a competitive edge. One area in which technology is having a transformative impact is field service software for small business solutions. Thanks to innovative advancements in mobile apps, data management, and other areas which is becoming more efficient and user-friendly than ever before. This can be great news for small business owners who rely on remote personnel to keep their operations running smoothly. In this article, we'll take a closer look at some of the most exciting new features and how they can benefit your small business. Stay tuned!
The first step is to ask the question what is field service software and will it help my small organization. Depending on where you do your research you'll find many variations of the definition. Here is one we think you'll like:
"Field solutions helps small businesses manage all the resources involved in activities. It can help managers and technicians process work orders, automate scheduling and dispatch, keep track of maintenance and repair tasks, manage customer contracts, collect payment and more."

Reference: IBM, What is field service management software?
Benefits for small business
Managing your remote workers for a small business requires unique processes, tools, and considerations. But the investment in technology can provide some substantial benefits.
Coordinate and monitor customer visits and timelines.
Save time and gas with customer visit optimization features
Automate dispatch with job scheduling software, and invoicing and reduce errors.
Proactively monitor inventory.
Increase communication and transparency between small business owners, techs, and customers.
Improved visibility to help collect, track, and analyze crucial data such as job completion times, expenses, and notes.
Remove repetitive, manual administrative processes, ease access to essential resources, improve communication, and organize calendars.
Centralized location of key metrics for the performance of your small business.
Operational organization for multiple industries with products such as chimney sweep software and painting contractor software and janitorial software and garage door software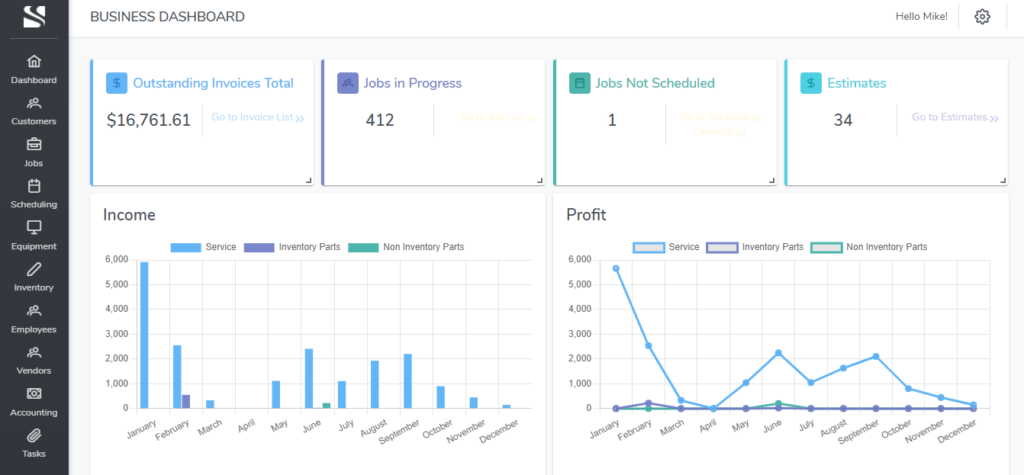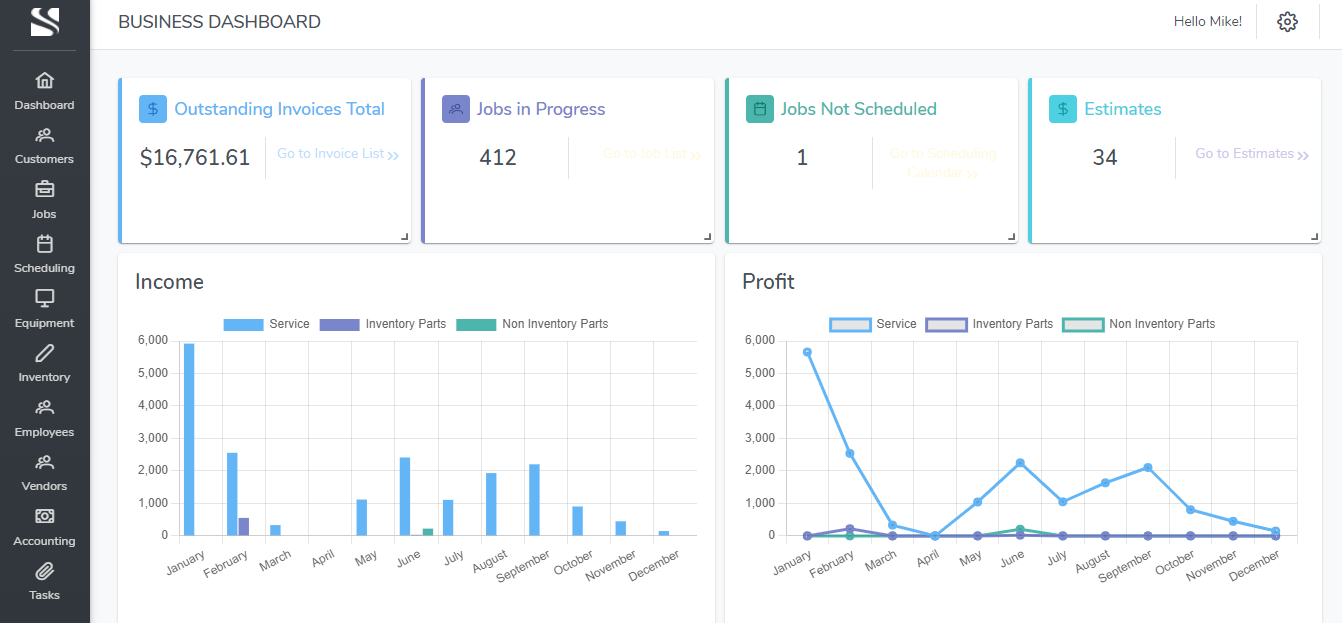 The benefits of service scheduling software are certainly within reach for small companies looking to optimize installation, maintenance, and repair of products through solid solutions.
What feature should you look for?
There are an extraordinary number of available features across different solutions. Here are a few of the key ones to look for your small business:
Business Dashboard – a centralized hub used to monitor sales, work orders, tasks, inventory usage, and more.
Technician Dashboard – the tech dashboard allowing them to view or edit customer data and job details.
Job Prioritization – the ordering of jobs based on their importance, urgency, or the need to comply with contractual agreements.
Mobile Access – access through a mobile device or tablet that allows the tech to update details and progress.
Inventory Parts Ordering – provide appropriate access to inventory availability and order request.
Skills Matching – the ability to assign tech and resources based on their skills. For example, certification, license, credentials, and more.
Customer Communication – allows the tech to communicate arrival time, that a job has begun, finished, and to request feedback.
Drag and Drop Calendar – ability to drag appointments and drop them in another day or time slot.