There is a better, smarter way to run your boat detailing business. And we can show you the way.
Bella FSM Boat Detailing Software are made for businesses like yours. Boat cleaning and detailing businesses have to work hard when it comes to managing customers, work and finances. Our software features an intuitive design along with an easy interface. All the features of our Boat Detailing Software and Boat Cleaning Software are fully customizable while the software itself is scalable. This is why the Bella FSM is the perfect fit for your business whether it is a growing services company or an already established one with a solid customer base.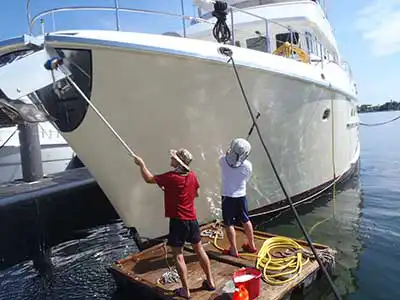 Provide quotes, invoices, and receive payments in the field
Marketing and sales reports
Reduce the amount of paper and errors
Access scheduling and customer info from anywhere
Increase workforce productivity with mobile access
When it comes to boat cleaning and detailing, clients usually call in before bringing in the boats. If you are to provide quality services, it is important that the clients must never be made to wait for cleaning or detailing services.
Employees must be scheduled in advance for such jobs and they should also be informed of their job status as soon as possible. With the Bella Boat Detailing Software, your staff can log in to their panel and see their assigned tasks in real time. So, no more service delays and lost business.
Bella FSM Boat Detailing Software and Boat Cleaning Software can help you schedule jobs, employees, important paper work and everything else you may need to be reminded of.
Boat Detailing Software Benefits for your Business
With Bella FSM Boat Detailing Software, operations are taken mobile and efficient. Accessible with any laptop, smartphone or tablet worldwide provides businesses an opportunity for increased productivity as well as improved customer satisfaction that cannot be matched by competitors' solutions.
Log in from anywhere and take control of your business operations. Our comprehensive suite of hardware and software solutions let you streamline Dispatch, Customer, Job, Employee & Vendor management alongside Invoicing processes - freeing up valuable time for driving sales growth & profitability.
Capture customer signatures electronically
Access to your data in the software anytime anywhere
Invoice and receive payments onsite
Customer history at your finger tips
Immediate communication with the field
Create a paperless process and never lose information
Inventory availability in real time while on site