Online Cleaning Service Software specifically designed to help you manage your Cleaning Service organization more efficiently. Bella FSM hosts the computer servers and cleaning business software for you, creating more time to focus on growing your company.
Easily build quotes & invoices onsite
Mobilize your workforce
Organize service by residential, house, or commercial
Schedule meetings, appointments, and assign tasks
Access schedule and customer info from anywhere
Send alerts to customers and employees directly from the software
Cleaning Service Software to Automate and Mobilize!
In addition to being the best solution available, Bella FSM Cleaning Business Software is online, therefore accessible from any computer or mobile device. Imagine the satisfaction of your customers when they experience speedier commercial and house cleaning services. Your business success is only a few improvements away!
Simply login to the residential cleaning software and easily schedule and dispatch, communicate with customers, employees and vendors. Start creating estimates and invoices and keep track of house locations and more. Let us take the daunting IT and maintenance tasks off your plate so that you can focus on maximizing efficiency, profitability, and growth for your commercial and house cleaning business. Let our software solutions give you more time to steer operations in the right direction!
Software for your Commercial and Residential Cleaning Business
Cleaning business software can help companies manage their operations more efficiently and effectively. Some potential benefits of using such software include:
Scheduling and dispatching of cleaners to specific jobs and locations
Keeping track of clients and their preferences
Creating invoices and accepting payments
Managing inventory and supplies
Generating reports and analyzing data to improve business performance
Providing a better experience for clients by allowing them to schedule and manage services online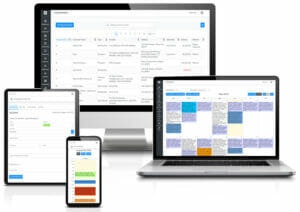 Overall, commercial and residential cleaning software can help companies save time and money by streamlining and automating various tasks. Also, provide valuable insights that can help them improve their operations.
Research your area to find other companies providing service for commercial and house cleaning. There may be many businesses you will be competing with. Since there are many smaller niche markets within the same field, it may be more profitable for you to enter a smaller niche market with less competition.
Build a business plan. Search the internet for example plans for cleaning businesses.
Chose a company name and get a license at your local city or county office.
Open a bank account for your company and get a tax ID from the IRS.
Meet with a tax accountant for guidance on deductions and best accounting practices if you decide to manage the books yourself.
Create a professional website, business cards, company phone line, brochures and flyers.
Send a Press Release with your local paper to get the word out.
Decide if you will offer commercial cleaning, residential cleaning, or both!
Try free tools such as a Cleaning Estimate Template