Bella FSM provides easy-to-use online electrician software designed to help you run your company more efficiently. Spend less time on administrative tasks and more time growing your company. Simply login and easily manage your clients, electricians, subcontractors, and jobs more effectively. Invoice quickly for the contracting services you provide.
Easily schedule your techs and sales team
Streamline Inventory Management
Schedule meetings, appointments, and assign tasks
Send alerts to subcontractors and employees
Manage documents in the field including blueprints and photos
Job costing features and integration with QuickBooks
Electrician Software Benefits
Get up and running quickly with our dependable electrician invoicing software. Our application is ready to use right away, so you can start setting up customer details, estimates, invoicing data - everything you need to get the job done! Plus its intuitive design will help simplify your organization as never before.
When it comes to operational efficiency, an electrical business needs flexible and adaptable systems that improve operations for both their back office and mobile techs.
Streamline Operations with Electrician Software
Our Electrician Business Software offers your business the ultimate flexibility and accessibility. With its completely online platform, you can take advantage of remote connectivity from any device - making it easier than ever to optimize operations on jobsites with effortless communication between electricians and customers for a more satisfactory experience overall.
Take control of your business with our streamlined electrician software suite. Log in from any device for effortless scheduling, easy dispatch, communications, invoicing and more. Stay on top of project progress while freeing up time to focus on increasing sales and profits.
We offer powerful electrician business software that can bring a range of benefits to businesses operating in the electrical industry. One key benefit is improved efficiency, as the electrician business software automates many administrative tasks, freeing up time for technicians to focus on the actual work. This can lead to increased productivity and profitability, as well as reduced costs.
Capture signatures electronically
Real time access to data anytime anywhere
Invoice and receive payments onsite
Immediate communication with the electrician in the field
Live inventory availability while on site
Create a paperless process and never lose information
View more features for the Electrical Contractor Industry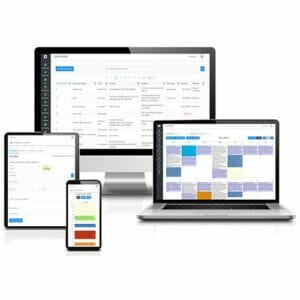 Another advantage using electrician software is improved accuracy. With features such as automated scheduling and invoicing, errors are minimized and work can be completed more quickly and accurately. This can also lead to improved customer communication and satisfaction, as work is completed on time and to a high standard.
Electrician invoicing software for electrical contracting can also provide valuable insights into business performance. Real-time tracking of time, expenses, and project progress allows businesses to identify areas for improvement and make data-driven decisions. This can lead to more effective resource allocation and better management of projects and finances.
Overall, electrician software can provide significant benefits to companies operating in the electrical industry, including improved efficiency, accuracy, performance, and communication.
Recent Electrician Articles
Free business tips and guides to help streamline electrician business operations.