All businesses have some mutual objectives. No matter what industry you are in, it is your job as a manager to look after the assets, meet production requirements, boost output, and improve profitability.
Bella FSM Equipment Maintenance Software has been created specifically for managers and supervisors who need the ability to quickly and effectively plan, schedule and prioritize work tools and equipment to ensure peak performance.
Our Equipment Maintenance Software gives managers instant access to important information related to the equipment. You can trust it to keep up-to-date data on inventory levels, overdue PMs, emergency orders etc. You can improve response time, work completion rates and repair parts turnover with the use of our Equipment Maintenance Software.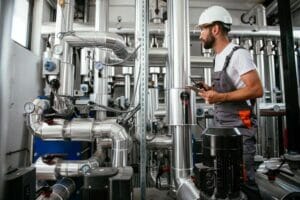 Streamline Inventory Management
Easily assign appointments and tasks
Access your calendar from anywhere at anytime
Send alerts to subcontractors, customers, and employees
Signing up for our revolutionary Equipment Maintenance Software gives you almost-instant access to the features and tools necessary to get your business running smoothly. From easily entering customer details to creating estimates and invoices. All with a sleek design that looks great too! Get prepared in advance so when opportunity knocks, be ready like never before.
Equipment Maintenance Software for Automation!
Bella FSM offers maximum efficiency and convenience with its 100% web-based Equipment Maintenance Software. This revolutionary technology can be accessed from any laptop, smartphone or tablet - transforming operations and boosting customer satisfaction!
Our modern platform offers a truly connected experience for managing the most important aspects of your business. Log in from any device and let us take care of all technical details, so you can focus on driving growth with productivity-enhancing tools like dispatching, customer management, invoicing and more.
Rest assured that your data is securely safeguarded with our cutting-edge security systems and robust backup capabilities, so you can keep calm knowing it's always safe.
Capture customer signatures electronically
Real time access to data anytime anywhere
Invoice and receive payments onsite
Maintenance history at your finger tips
Immediate communication with the field
Live inventory availability while on site
Create a paperless process and never lose information