Garage Door companies have become overwhelmed with lost opportunities, unpaid bills, inaccurate accounting and late estimates, but we can help you! Garage Door Software from Bella FSM can help you take control of your service business and focus on growth like never before.
Using our solution will ensure that inventory is no longer a guessing game as you get to ensure the exact levels of parts so you can order beforehand. Over booking won't be an issue any longer thanks to the powerful scheduling that can provide you a daily, weekly and monthly view of the calendar to ensure optimized agenda-setting capabilities.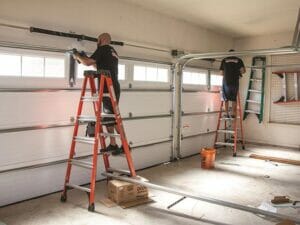 Easily create Quotes & Invoices onsite
Set up jobs by residential or commercial
Jobs scheduling
Access the calendar and customer information at anytime from anywhere
Send text alerts to customers and employees
Integration with QuickBooks and Job Costing
What really sets our Garage Door Software apart is that it's yours as soon as you sign up. There are no lengthy programming or installation procedures! Start entering customer information, estimates and invoices to get started immediately because we know how important time management can be in this industry.
Garage Door Software for Automation of your Business!
In addition to being the best solution available, our Garage Door Service Software is 100% web-based and therefore accessible from any laptop, smartphone, or tablet. Imagine how much easier and more satisfying your day-to-day operations can be with a system like this in place!
Just log into the software effortlessly to schedule, oversee customers, jobs, employees, subcontractors, invoicing, and accounting and that's only the tip of the iceberg.
With state-of the art security, you can rest easy knowing that all your information will be protected. And with our latest backup capabilities we make sure no matter what happens data remains safe in its current location or if there is an issue at hand - it gets backed up instantly so nothing goes lost!
Capture electronic signatures in the software
Instant access anytime anywhere to your data
Create an invoice onsite and receive a payment
Service history of your customer at your finger tips
Real time communication with the field
To never miss a thing, create an automated process that saves all your information and reduces paper
Mobilization of your team!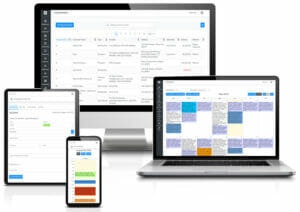 Benefits of Garage Door Business Software
Garage door business software can bring numerous benefits to companies that operate in the garage door industry.
First and foremost, it can streamline many of the day-to-day tasks and operations that businesses need to carry out, such as scheduling appointments, managing inventory, and invoicing customers. This can save time, reduce errors, and improve overall efficiency.
Another key benefit of garage door business software is that it can improve customer service. By providing an easy-to-use platform for scheduling appointments and communicating with customers, businesses can enhance their responsiveness and provide a more professional service.
Garage door service software can also help businesses to stay on top of their finances. With features such as invoicing, billing, and accounting, businesses can keep track of their income and expenses more easily and accurately. This can help with financial planning and forecasting, as well as providing a more complete picture of the business's financial health.
View other features and functionality such as our drag and drop calendar and see how it benefits companies in the Garage Door Industry.