Whether you're a startup or a seasoned professional, your company will definitely benefit from our Janitorial Software and Custodial Software, created specifically to fulfill the needs of your industry.
The management of janitorial and custodial businesses need serious focus and attention. Whether you cater to commercial or residential customers, things can get out of hand quickly, especially if scheduling and communication to the field and customer hasn't been done right.
Quickly generate accurate quotes and invoices while onsite – streamlining your workflow for ultimate efficiency
Setup jobs by residential or commercial
Access your data at anytime from anywhere
Keep your clients and team informed with timely email and text notifications
Our janitorial business software and custodial software offers the perfect solution to your organization's needs. No lengthy programming or installation procedures, therefore start entering client information right away! Our management system is designed to help streamline processes with great features that get you up and running in a flash without having to wait.
Janitorial Software to Automate your Operations!
With our janitorial management software, effortlessly boost efficiency and client satisfaction. It's the premier solution for today's business environment, offering convenient online access from any laptop, smartphone or tablet. A true game changer!
Through our comprehensive and user-friendly platform, managing your customer relationships and jobs and can be done from any device. Get the time to focus on what truly matters, driving growth for you business with improved productivity, sales and profits. All of this is managed in one place for you!
Our superior security and reliability guarantees that your data is fully protected which ensures you peace of mind. And, to further provide for our customers' needs, we offer the most up-to-date back-up solutions so nothing will ever be lost in the digital world again!
Capture signatures digitally
Real time access to data anytime anywhere
Customer history at your finger tips
Immediate communication with the field
Inventory management availability while on site
Never lose information with a paperless process
Mobilize your workforce whether big or small!
View all features for the Custodial and Janitorial Industry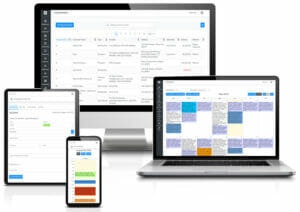 Why Janitorial Management Software Matters
Streamlining Operations
With janitorial software, business operations get simplified. Tasks are easier to assign, schedules are easier to manage, and workflows are smoother.
Enhancing Accountability
Accountability is a key aspect of any business. With janitorial software, there's a digital trail for every action, fostering a culture of responsibility and diligence among employees.
Deep Dive into the Benefits of Janitorial Software
Now that you understand what janitorial software is and why it matters, let's take a deep dive into its numerous benefits.
Optimized Scheduling
No more double bookings, forgotten appointments, or inefficient routing. Janitorial software provides optimal schedules, maximizing productivity while minimizing wasted time.
Better Task Management
From tracking progress to allocating resources, task management is a breeze with janitorial software. It keeps everyone on the same page, reducing miscommunication and enhancing performance.
Real-Time Updates
Information is power, and real-time updates provide just that. Everyone from management to field workers to clients stay informed, fostering a culture of transparency.
Improved Customer Relationships
Happy customers are repeat customers. By offering transparency and efficient services through janitorial software, businesses can greatly improve customer relationships.
Accurate Tracking
Whether it's tracking staff hours, supplies, or client feedback, janitorial software provides accurate, real-time data, offering invaluable insights into your business operations.
Insightful Reports
Reporting is key to understanding business performance. Janitorial software offers detailed reports, providing the insights you need to make informed decisions and improvements.
Cost Saving
By streamlining operations and enhancing efficiency, janitorial software can significantly reduce operating costs.
Environmentally Friendly
Say goodbye to paper! Janitorial software is a greener solution, reducing paper waste and contributing to environmental sustainability.