Painting Contractor Software from Bella FSM to organize your business is a secure online system completely integrated with robust features to help you manage all areas of your painting business including scheduling, estimating, job and client management.
Our intuitive design interface and top of the line features make it one of the most sought after products for any size painting contractor business. Schedule your team, track inventory and contracts, just to name a few. This is comprehensive solution designed to streamline the entire workflow of your company with minimal effort.
Easily create quotes, invoices, and receive payments while onsite
Organize by residential or commercial
Reduce the amount of paper and errors
Access customer data anywhere anytime
Send alerts to your team
Easily manage customers, employees, and vendors
Job costing features
And one of the best thing about our estimating software for painters is you will be up and running with our program in just minutes. Start entering client details and begin estimating and invoicing immediately.
Painting Estimating Software to get an Edge on the Competition!
Bella FSM Painting Contractor Software is web-based which means it's accessible from any computer or mobile device. Our software makes your painting business operate like a well-oiled machine. The increased efficiency and client satisfaction will be an unexpected reward for all of those hours spent working hard at work in this field!
Simply login to the solution which includes job tracking software and easily dispatch painters, create work orders, communicate with clients, send invoices and more. We ensure that our clients have all the time they need to focus on growing their business by managing everything from start-up through growth.
Your customer history right at your finger tips
Collect digital signatures
Invoice and receive payments onsite
Instant feedback between the back office and the field
Live inventory availability while on site. No more estimating!
A paperless process is a way to ensure that you never lose any information
Mobilize your painter workforce whether big or small!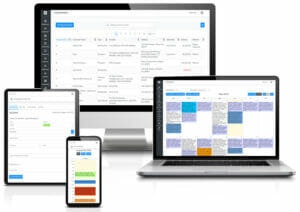 Software for Painters to Rise Above!
If you're new to painting contractor software, all of this can feel a little overwhelming. The good news is you can start small and revise as needed to see which painting business software is best for you.
Look for free trials to try before you buy, and if they don't openly offer one, ask for it! The goal is to find programs that handle the parts of running an organization that you don't enjoy so you can focus your time and effort on doing what you love.
You may also be interested in our free tools for painters such as the Painting Estimate Template