Business owners that manage pressure washing services know that great software is a very important part of success! To remain competitive, business owners need to apply best practices in areas like scheduling, customer management, invoicing and performance that Pressure Washing Software from Bella FSM provides.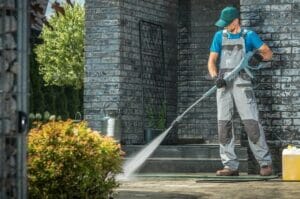 Easily create quotes & invoices onsite
Organize by residential or commercial
Schedule appointments and assign tasks
Access schedule and customer data at anytime from anywhere
Send text alerts to customers and employees
You can be running with the Pressure Washing Business Software in just minutes! No lengthy programming and installation procedures! Start entering customer details and estimating and invoicing information to get to work immediately. You'll be able to streamline your company like never before with our cutting-edge software.
Pressure Washing Software to Automate and Mobilize!
In addition to being customizable, Bella FSM Pressure Washing Software is online which makes it accessible from any computer or mobile device. Imagine how much easier your day-to-day operations will become, and just think of all the increase in client satisfaction you are going to achieve.
We make sure that you don't have to worry about a thing. We manage the entire solution which creates time for you to focus on running your business well instead of wasting effort worrying about technical issues like data management or system access control policy implementation
To ensure that your important data never gets lost, we provide state-of the art security to safe keep all information along with latest backup capabilities.
Capture electronic signatures
Real time access to data anytime anywhere
Invoice and receive payments onsite
Client history at your finger tips
Immediate communication with the field
Create a paperless process and never lose information
Mobilize your workforce whether big or small!