Automation is the most important part of any business today. The competition is stiff and technology is sophisticated. To make profits, your refrigeration service business needs to integrate top notch software that can help streamline your operation, increase your revenue and maximize profits. Like most commercial refrigeration service providers, you offer a wide range of services in order to meet diverse customer demands. Our refrigeration software incorporates the latest technology and features that will enable you to manage your business more efficiently while maintaining a high level of customer service.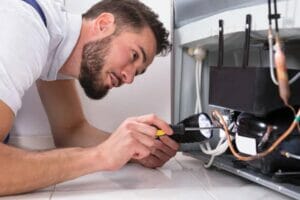 Instantly streamline the quoting and invoicing process with onsite solutions
Work smarter by accessing your customer data and scheduling activities from any location
Keep your subcontractors, customers and employees informed with timely text and email alerts
Are you looking to increase efficiency in the way your business manages refrigeration services? Look no further! Our refrigeration software offers an easy sign-up process and is ready for action immediately. Forget lengthy programming and installations; get started with customer details, estimates, billing information right away to maximize productivity - all while enjoying a sleek program that looks great too.
Refrigeration Software to Automate your Business Operations!
With Bella FSM Refrigeration Software, you can take your business operations to the next level. Imagine unlocking 24/7 access from any device – laptop, smartphone or tablet – and watching customer satisfaction skyrocket with every customizable feature! Your work will become more efficient than ever before.
Our web-based platform allows you take charge of your business from any device. Get ready for a world with less hassle and more control, leaving you free to concentrate on catapulting productivity, revenues and profits - all while we manage the technical side of things!
Enjoy complete reassurance with our state-of-the-art security and the latest data backup techniques. Rest assured that your valuable information is kept secure, free from risk of loss or damage.
Stay up to date with your data from anywhere
Customer history at your finger tips
Immediate communication with the field
Live inventory availability while on site
No more papers piling up, just streamlined information storage for maximum organization