Job optimization enables service organizations to increase resource efficiency, productivity, and utilization while reducing costs and enhancing the customer experience. While scheduling and mobility play a crucial role in this, much more information is required in making optimal decisions such as parts and materials, customer service history, technician availability, and much more.
Bella FSM – Work Order Software allows companies to efficiently manage their mobile workforce by optimizing the flow of information. This can become difficult especially on a larger scale because this involves proper scheduling of multiple technicians and minimizing the cost involved as they are sent out daily to different locations. Skill level can also vary from technician to technician and can complicate matters when trying to assign work that matches the individual's level of expertise.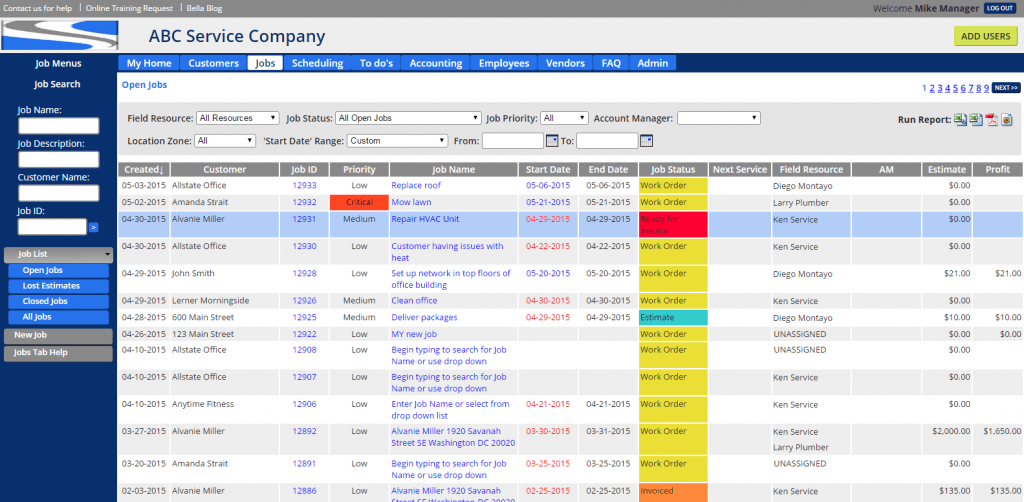 The ideal scenario involves both the dispatcher and the technician being updated real-time about all job information such as inventory and availability. A customer can call in with a job request and as soon as the information has been entered into the system he can assign an appropriate technician with the required skills and certifications. At the same time he is assured the technician is already equipped with the necessary tools and supplies or can easily inquire about additional supplies as needed back with the dispatcher.
Job optimization reduces workforce downtime and maximizes productivity, maintains optimal stock levels, automates paper processes and reduces human error among other things. It can be critical to business as it monitors and manages inventory levels and ensures that a field service technician servicing a particular job has the parts and supplies needed to complete it.
Benefits of Bella FSM:
Productivity – mobile professionals can receive work orders anytime, anywhere, and reduce "windshield time"
Customer Satisfaction – Quicker responses to requests or critical situations improve services
Efficiency – Reduce phone calls, data entry, and paperwork & improve the workflow process
Simplicity – Your team doesn't have to worry about software installations, maintenance, or upgrades.