Bella FSM is pleased to announce it was listed in the "Top 20 Most User Friendly Field Service Management Software" 2016 report by Capterra. On average, a technician working for a field service company completes four to five jobs per day. While performing routine maintenance might be a piece of cake for your techs, processing a work order from start to finish can involve a lot of planning.
Something as simple as assigning one of your guys to a job can include a lot of questions. Figuring out priorities, availability of your staff, and travel times alone can be a giant headache. And that's not even considering the billing process for a client when a job is finished.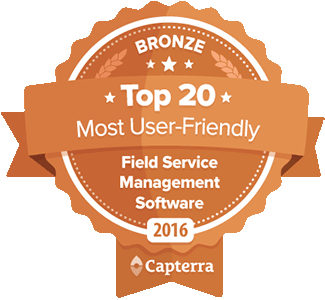 This research is part of Capterra's series of Top 20 reports. All reports in this new, user friendly series are determined by considering three different ratings criteria: usability, customer service, and customer reviews.
Usability is determined through direct user testing, measuring how many seconds and clicks it takes to complete common tasks in a field service solution. We've listed these common tasks below. We tried to choose tasks that were representative of the many processes that go on behind the scenes at a field service company.
Add a technician to the system
Create a customer
Add an item to the item list/inventory
Create and send an estimate
Turn that estimate into a work order
Schedule/assign a technician to the work order/job
Record time worked on the job
Invoice the customer for the completed job
Capterra tested all FSM Service Software solutions made available to them and performed each task two times in a solution. The first time, we completed the task without accessing any training, and the second time, we followed training materials provided by the software company.