Service business software in the cloud has transformed the way companies interact not only with each other but also with their workers. Capable of serving as both storage and sync point, the cloud makes possible the seamless transfer of information, which is efficient and effective for small businesses that have jobs and crews in multiple locations.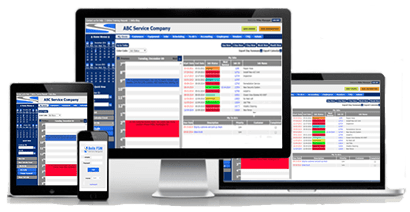 Contrary to what its name implies, the cloud is not uploading and downloading content from somewhere in the sky. It consists of multiple networks of servers that allow applications to run and be accessed through the internet rather than on a local network of computers in an office. That means anyone with the correct password can tap into essential programs for accounting, workflow, safety, project management and more with any compatible device that has internet access.
This also allows companies to take advantage of online Service Software solutions rather than traditional products that must be installed manually and then regularly replaced with new versions. SaaS online software is automatically updated, usually as part of a subscription or other access fee.
While these technologies have been a productivity boon for many large companies, some small businesses might think using the cloud is expensive, complicated. That is not the case. In fact, smaller companies may be in a position to benefit the most from the cloud. One of the reasons for this is that entry comes at a relatively low price. Running cloud-based programs is less expensive than trying to establish an in-house IT operation, which, would require companies to invest in costly infrastructure and staff and spend even more money on related elements like security.
In fact, the lower cost allows small businesses to compete with their larger rivals almost immediately. Online software helps small businesses work smarter through the elimination of time and money wasting redundancies caused by the disorganized flow of emails, documents and project paperwork. In addition, online software enables field and office personnel to stay updated with the latest job-related facts and figures through syncing and simultaneous updates across devices. Team members also benefit from the efficiency of detailed reporting, which can reduce the need for time consuming meetings.
Even though the benefits are clear, there are still a number of hurdles to wider adoption of cloud-based technologies in the field service industry, the first being resistance to change. Hand in hand with that hesitancy is the simple fact that the cloud can be intimidating to many small businesses and full of unknown answers to questions like how much time is required to spend on the computer, where exactly is the software and whether information in the cloud is safe. The security benefit of running software in the cloud is that companies can easily revoke access to those no longer associated with the company or project with a press of a button.
Cost also is sometimes a barrier but the price tag has come down significantly. Software bundles have been made more accessible and affordable through the cloud, giving small businesses exposure to other helpful tools they might have never discovered otherwise.
Before small businesses start moving to online software in the cloud, they need to make a few decisions and come to terms with how the changes will play out. The process is not a point in time shift, it's a transformation with ongoing planning, so it's important that small businesses don't get demoralized when their operations aren't promptly 100% efficiently cloud-based.
Small businesses need to decide what capabilities are most critical to their businesses and that's where they should start. A painless way to evaluate any cloud-based software is by taking advantage of a free trial.