Bella FSM gives you the ability to streamline your operations from any computer or mobile device. No expensive and complicated software or hardware to purchase.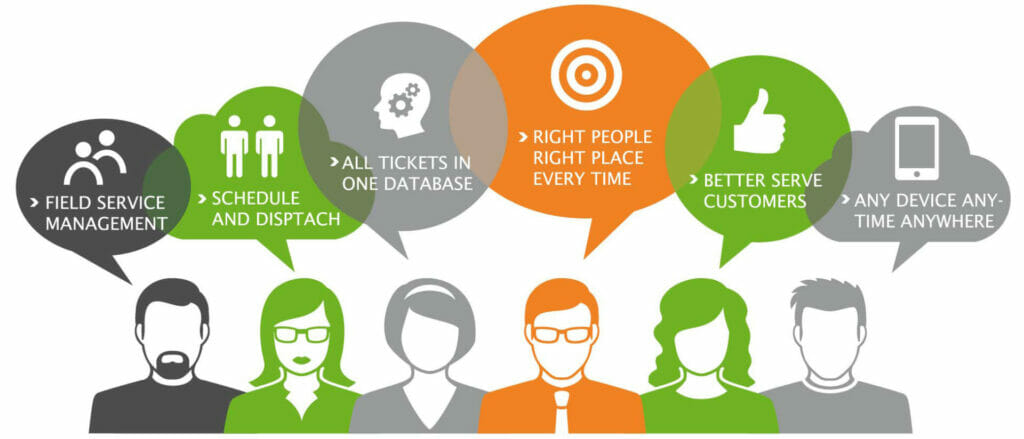 Through our ingenious use of state-of-the-art technology we provide a flexible way of maintaining a competitive advantage and maximizing profits by providing all of these capabilities:
Bella FSM allows you to easily schedule and update jobs in addition to:
Track job progress from estimate, to work order, to invoice, to payment
View up to date job cost and expenses for partial invoicing while tracking payroll and managing both business and customer costs.
Track which jobs have been paid to more effectively collect revenues and never miss a payment.
Service scheduling software to optimize dispatch with one click calendar actions. Drag and drop appointments for quick and easy modifications. Assign color codes to technicians and location zones for visual grouping. Streamline your scheduling, dispatch, workforce, optimize field personnel, and more. Furthermore, Bella job management software works with Google Maps for directions and route optimization.
Bella FSM service company software provides CRM tools to give you the ability to track prospects and existing customer information. It provides you with the ability to create multiple contacts, multiple locations, equipment, price levels and more. Additionally, you can quickly and easily search history for each customer to provide increased customer service and satisfaction.
Monitor all of your employees regardless of the role they play in your company. Even if an employee does not have access to the software, you have the ability to assign them as a field resource. We also allow you to track company equipment assigned to employees such as tools, equipment, trucks, PDA's, etc. Additionally, tracking time is available for up to date payroll information.
Our solution also allows you to oversee all of your vendors such as subcontractors, consultants, suppliers, and more. A few of the Vendor management features that are included:
Giving limited access to a subcontractor to update their progress and schedule
Track labor hours from vendors, view balances, and all vendor transactions.
Quoting | Invoicing | Accounting
Robust accounting tools provide the ability to organize small to medium size businesses. They allow you to:
Easily create quotes, proposals, work orders, and invoices for your customers.
Monitor your accounts, transactions, price levels and more.
Enable an outsourced accountant to oversee your accounting if you prefer.
Track expenses and cost for job reports
We have a
QuickBooks integration
tool which will update your customers, items, and invoices. You have the option of using our accounting exclusively or sync. The choice is yours.
Bella FSM uses industry standard terms and forms ready for use as soon as you sign up. Also, we provide you with several customization options. Here are a few examples:
Customize terms and forms with minimal effort to match your current process.
Customize layout of each page.
Create as many custom data fields as needed.
Benefits of Job Management Software
Maximize profits by organizing and streamlining your field service business
Optimize scheduling to maximize employee's and subcontractor's time in the field
Save time and money by reducing paperwork and errors.
Never miss a customer payment
Improve customer satisfaction and service with faster response times
Easy management of employees, customers, vendors, jobs, work orders, estimates, invoices, accounting and your business from one solution.
Manage all jobs whether single or multiple visits are needed and view up to date cost and expenses
One of the most critical factors when selecting an online solution to help run your business is the reliability and availability of the website. We are breaking industry records for website up-time. Below is the actual up-time percentage of our award winning software for the last three months: