Bella FSM works by providing easy to use field service software specifically designed for managing operations entirely through the internet. Bella online software allows owners to effectively manage the administrative, sales, jobs scheduling, billing, and accounting aspects of their business via the internet.
The online software provides a link between the business owners, employees, subcontractors, and customers. It also incorporates the latest technology which allows the online solution to be available wherever there is internet access. No expensive hardware, no complicated install…just a username, password, and a small monthly fee.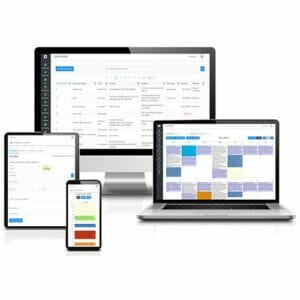 Advantages of Hosted Online Software
No hardware or software to purchase and install. All you need is a computer with an internet connection
It's ready to use so no setup is needed to get started. Customization of our online software is also available if needed for your company.
No large time or money investment required. There is only a small monthly subscription fee that you can cancel at any time without penalty.
Safe and secure management of all your data records at no extra cost or effort from you. We make it easy for you.
New dispatch software features and upgrades are automatically installed at no charge.
Access your data anytime, anywhere, and from any computer.
Ease of use. Businesses can seamlessly transition the applications they use everyday to the cloud. No bottlenecks or extensive code adjustments need apply. With a reliable Internet connection, all users can access data on the cloud.
Ease of access. Users can work from anywhere in the world with an Internet connection, enabling collaboration across both local and global offices and boosting productivity.
Reduced physical clutter. Cloud storage precludes the need to invest heavily in hard storage devices. However, it may be wise to backup data into a physical device in the event of an Internet outage or technical issues.
Cost savings. Most cloud services have negligible costs, allowing businesses to allocate manpower and capital to other endeavors.
Growth potential. Businesses can seamlessly upscale or downscale their cloud resources in tandem with revenue and market changes.
Reliability. Because all data is hosted on the web, issues can be resolved quickly and with minimal impact on operations.
Admin user role is for owners, managers, or any person responsible for the customization and set up. The primary responsibility associated with this role is managing company equipment, job Items (labor rates, materials, expenses, taxes, etc…), vendors and more. The Admin user is able to access all features. This role can also be assigned to multiple users, thus resulting in shared access.
Standard user role is for employees and subcontractors such as technicians and sales reps. They can enter up-to-date labor hours and expenses, record daily activities, update appointment and job activity, and more. Access levels are set by an Admin user. Regardless of whether or not your employees and subcontractors are a user of Bella FSM online software, their productivity can be increased by emailing or texting work orders, schedules and more.