Bella FSM service scheduling software will help you manage jobs and your workforce. Streamline your field operations and don't let anything fall through the cracks!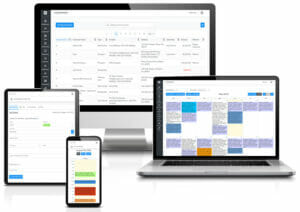 Automate workflows and send real time daily schedules
Streamline the jobs scheduling process to ensure service level compliance
Increase your first time fix rates
Easily schedule one or more techs for each job
Make quick updates in real-time from anywhere at anytime
Our solution provides the ability to easily schedule services you provide to your customers at every stage from quote through getting paid. Quickly assign jobs and make real-time updates from the office or field.
With our innovative and easy to use calendar, you can add team members in just a few clicks. You have the option of assigning them full time or part-time as needed.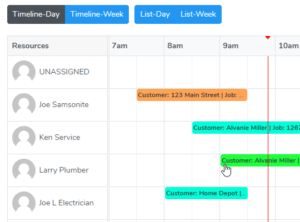 Additionally, the service scheduling software enables an easy drag and drop calendar so when conditions change your business is ready!
Multiple Calendar Views
Recurring Appointments
Color Coding Options
Mapping
Crew management and tracking
Text and Email Alerts
Appointment Reminders
List Views
View your schedule weeks or even months in advance to ensure the right techs are available at the right times to get it done!
Facilitate job tracking at every stage from estimate, to work order, to invoice, to paid. Make real-time updates from the field or office. Email or text alerts can be sent for immediate dispatch. The job tracking dashboard provides an instant gauge on progress.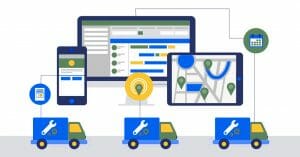 Job Status and Priority Tracking
Image and File Attachments
Time Tracking
Maintenance Contracts
Customizable Work Order Forms
Crew Management and Tracking
Why you Need Job Scheduling Software
Businesses have typically used a manual paper process to manage their team. But as they grow, it becomes essential to use more effective means to manage and utilize time and resources with software automation. That's where job scheduling software and job tracking can help to automate the process.
Get to the customer site sooner and say goodbye to paper tracking and jobs scheduling. Your technicians can view their daily routes and tasks in the tracking software from anywhere they have an internet connection eliminating the need to check in at the office.
Keep your technician schedules in sync with a servicing app. Last-minute changes? No problem. When an office employee makes updates, your team get real-time access to the new route.
Increased productivity and efficiency

: With service scheduling software, you can automate many of the tedious and time consuming tasks involved in scheduling appointments and events. This can free up your staff to focus on more important tasks, and help your business run more smoothly.

Better customer service

: Automating the jobs scheduling process can make it easier for customers to re-schedule appointments and events with your business. Improving customer relationship management will make it more likely that they will return in the future.

Improved organization and visibility

: Jobs scheduling software can help you keep track of all your appointments and events in one place, making it easy to see who is scheduled for what and when. This can help you avoid conflicts and ensure that all of your appointments and events run smoothly.

Enhanced communication and collaboration

: Communicate and collaborate more effectively, both with each other and with customers. This can improve the overall functioning of your business and help you deliver better service to your customers and streamline jobs scheduling for your business.

Cost savings

: By automating many of the tasks involved in scheduling appointments and events, job scheduling software can help you save time and money. This can be especially important for small businesses and organizations with limited resources.