Bella FSM 2.0 Coming Soon!
Years of experience as the first company to provide an online field service management solution has given us incredible insight into the industry needs. Customer feedback has driven our product roadmap allowing us to build the most innovative solution ever. Here are just a few of the highlights…
Business Dashboard to give real time view into your operations
Drag and drop scheduling with new timeline grid format
More customization options throughout the service software
Resize data table columns, reorder columns, hide/show columns
Streamline your business from end to end with a user friendly interface
Smooth drag and drop scheduling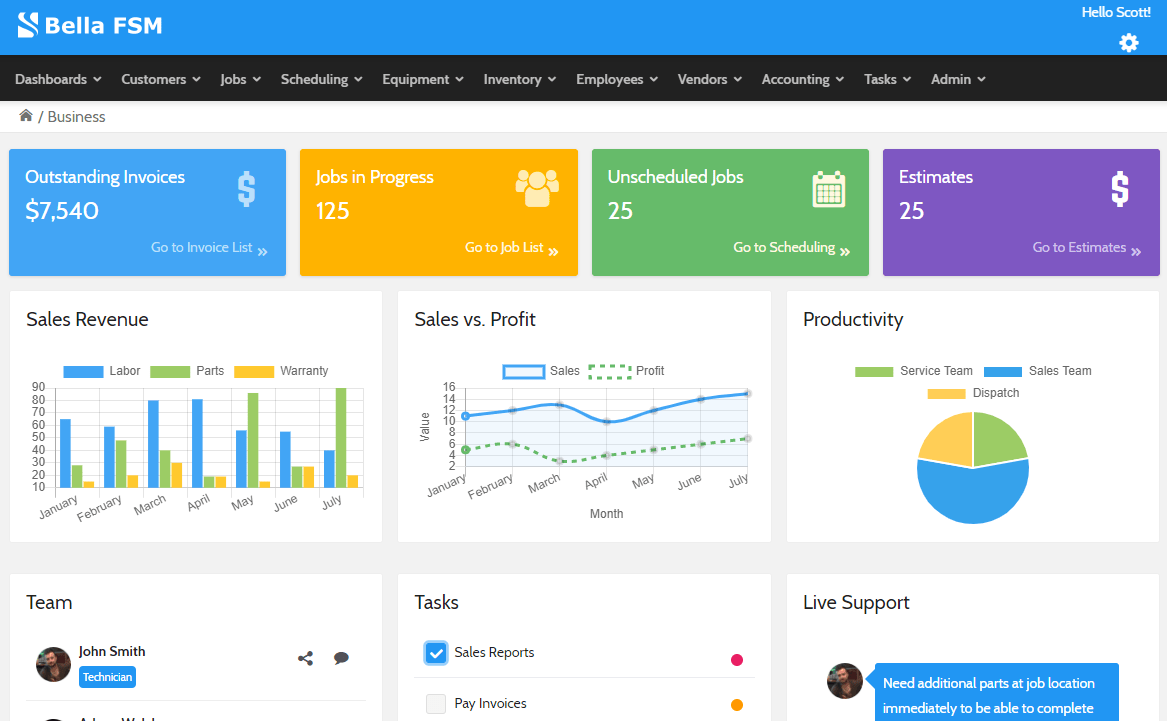 Innovative State of the Art Technology
The future relies on the latest technologies. According to a recent Forbes article The Future For Software In 2020 will include…
Increase in AI and automation
"Automation is now seeing a peak and we expect to see this continue to grow in 2020. While the use of automation is set to grow next year, we are also likely to see those who are already implementing automation tools in the software development process to go beyond this and find new ways to create code itself." said Mathew Lodge, CEO of Diffblue
Talking up voice technology
"Voice capabilities can empower multitasking, collaboration and other efficiencies such as note-taking, calling headquarters, activating a case, accessing job repair histories, or searching a database — all without stepping away from the task at hand. Field organizations willing to get ahead by investing in these voice-activated tools now, will win big in the long run," said Paul Whitelam, Senior VP ClickSoftware
eXperience matters
Certainly, a defining trend since 2019 has been the popularization of the term user and employee experience. This notion has been so widely used that the capitalization convention has even shifted to the second letter to give us eXperience – so that we can talk about User eXperience (UX). This trend will continue into 2020 and beyond.
Don't worry, all of Bella FSM's current innovative features and functionality that you have used for years will still be available, however greatly enhanced creating the most innovative solution ever!
In addition, we will be adding new features at a faster pace due to our new technology platform. If you have any suggestions on features please share your ideas with us using the email below.
Start your Free Trial today or Login to your current account and get started!
---
About Us
Bella FSM is a leading provider of innovative solutions such as job scheduling software for a wide range of industries including Maid Service Software, Property Management, Handyman Business Software, ITSM, Cleaning Business Software, Window cleaning Software, and Building Maintenance Software. The company was founded in 2005 and serves clients worldwide from its corporate headquarters in Reston, VA and satellite office in Atlanta, GA.